Scambiatore di calore dritto tubo A213 TP316Ti
S pecification :
ASME SA213/A213: Specificazione Standard per la lega ferritici ed austenitici senza giunte
Caldaia in acciaio, surriscaldatore e tubi dello scambiatore di calore in acciaio inox.
Altra norma: BACCANO 17456, BACCANO 17458, EN10216-5, GOST 9940-81, GOST 9941-81, JIS-G3463,...
Grado materiale:
American Standard

Austenitic Steel:

TP304,TP304L,TP304H, TP304N, TP310S,TP316,TP316L,TP316Ti,TP316H, TP317,TP317L, TP321, TP321H,TP347, TP347H,904L-

Duplex Steel :

S32101,S32205,S31803,S32304,S32750, S32760

Others:TP405,TP409, TP410, TP430, TP439,...

Europen Standard

1.4301,1.4307,1.4948,1.4541,1.4878,1.4550,1.4401,1.4404,1.4571,1.4438, 1.4841,1.4845,1.4539,1.4162, 1.4462, 1.4362, 1.4410, 1.4501

Russia Standard

08Х17Т,08Х13,12Х13,12Х17,15Х25Т,04Х18Н10,08Х20Н14С2, 08Х18Н12Б,10Х17Н13М2Т,10Х23Н18,08Х18Н10,08Х18Н10Т, 08Х18Н12Т,08Х17Н15М3Т,12Х18Н10Т,12Х18Н12Т,12Х18Н9, 17Х18Н9, 08Х22Н6Т, 06ХН28МДТ
Dimensioni Gamma :
| | | |
| --- | --- | --- |
| Production | Outside Diameter | Wall Thickness |
| Heat Exchanger Tube | 6.00mm to 101.6mm | 0.5mm to 8mm |
Rifinitura finale Soluzione temprata & marinata /Bright temprato.
Tipo di tubi: U-bend & dritto.
Alcuni dei test di qualità effettuati da noi comprende:
| | |
| --- | --- |
| Corrosion Test | Conducted only when specially requested by the client |
| Chemical Analysis | Test done as per required quality standards |
| Destructive / Mechanical Testing | Tensile | Hardness | Flattening | Flare | Flange |
| Reverse-bend and Re. flat tests | Carried out in full compliance with relevant standards & ASTM A-450 and A-530 norms, which ensures trouble-free expansion, welding & use at customers end |
| Eddy Current Testing | Done to detect homogeneities in subsurface by using Digital Flaw-mark Testing System |
| Hydrostatic Testing | 100% Hydrostatic Testing carried out according to ASTM-A 450 norms for checking tube leakage, and biggest pressure we can support 20Mpa/7s . |
| Air Under Pressure Test | To check any evidence of air leakage |
| Visual Inspection | After passivation, every single length of tubes & pipes is subjected to thorough visual inspection by trained staff for detecting surface flaws & other imperfections |

Prove complementari: Apart dai test di cui sopra, effettuiamo anche su prodotti fabbricati prove complementari. I test condotti in questo includono:
Eddy Current Testing
O.P Testing
Radiography Testing

Corrosion Testing
Micro Testing
Macro Testing

IGC Testing
Ultrasonic testing
Liquid Penetrate testing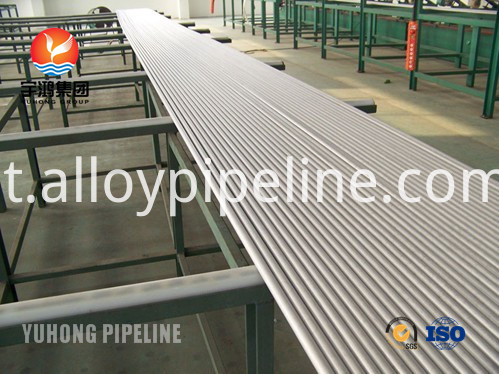 Gruppo di YUHONG affare con tubo saldato dell'acciaio inossidabile ed il tubo già più di 10 anni, ogni
Vendita di anno più di 5000 tonnellate di tubo dell'acciaio inossidabile e tubo. Il nostro cliente copertura già più di 45
paesi. Il nostri tubo senza giunte dell'acciaio inossidabile e tubo erano larghezza utilizzata nell'estrazione mineraria, energia, petrolchimico,
Industria chimica, pianta alimentare, cartiera, Gas e industria fluida ecc.

Elenco prodotti : Scambiatori di calore tubo > Tubo dritto dello scambiatore di calore